Thai nationals and foreigners can now face the death penalty if found engaging in corrupt behavior, in accordance to new anti-corruption legislation passed by the military government, the Bangkok Post has reported.
The amended Anti-Corruption Act of 1999 states that significant acts of corruption can now see elected, state and foreign officials at risk of death by lethal injection.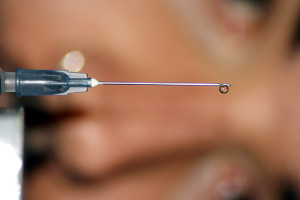 Image Credit: Nicola Sapiens De Mitri (Flickr)

If convicted of corruption, the guilty party can expect five to 20 years or life imprisonment, a fine of Bt100,000 – Bt400,000, or even death. The sentence depends on the severity of the offense.
Click here for information regarding Thai corruption laws, and the amended Anti-Corruption Act in Thai.
It's not entirely clear where the thresholds are in accordance with the different sentences, however Human Rights Activist Veera Somkwamkid has suggested that anyone convicted of costing the state more than Bt5 million (about USD$150,000) should be punishable by death.
Foreigners may also be subject to their own country's laws, as well as the Thai law. In the USA, this would be the Foreign Corrupt Practices Act and in the UK the Bribery Act, 2010.
Similarly, if the crime in question is connected to another country, a Thai national may be required to stand trial in said country. For example, in 2010, a prominent fraud case involving an American couple and a Thai mother and daughter meant the latter were tried in Los Angeles, under the US Thailand Extradition Treaty.
Fraud Lawyers in Thailand Chaninat and Leeds have decades of experience in both civil and criminal law cases. Our attorneys specialize in trial and litigation, both prosecuting and defending fraud cases for our clients.
The fraud case was that of husband-and-wife Hollywood movie producers. Gerald Green, 78 and Patricia Green, 53, who were found guilty of conspiracy, violating the Foreign Corrupt Practices Act, and Money Laundering. They were each sentenced to six months in jail, and six months home confinement by a Los Angeles federal judge, each was also ordered to pay $250,000 in restitution.
The Greens obtained valuable contracts, including contracts that allowed them to operate the Bangkok Film Festival. In total their bribes added up to $1.8 million, paid to Juthamas Siriwan, governor of the Tourism Authority of Thailand and her daughter. The contracts they received from Siriwan were valued at $13.5 million.
Under the amended law however, all parties may have faced the death penalty.
The last execution in Thailand was in 2009.
For more on this story, see here.
You may also be interested in learning about Fraud in Thailand, and Thai Extradition Law; see the below video: